Ask any paint expert and they'll tell you the most difficult part of a painting project is choosing the perfect color. Most homeowners lack color confidence and as a result, may choose to repaint with a shade closely matching the original color or with another neutral tone.
So, how can you embrace beautiful colors when you are afraid of choosing something too bold or daring? Take notice of your surroundings – often times, great ideas come from our own environment.
There are also many resources to turn to when selecting a new paint shade. Here are some more ideas on how to find the perfect color of paint for your project:
What color are the walls at your favorite coffee shop or restaurant? What about your best friend's kitchen? Look at the colors other people are using to find inspiration for your own project.
Home Books and Magazines: Get access to all the latest issues – and trends. Nothing inspires like a well-lit, perfectly decorated room!
Furniture Stores and Catalogues: A lot of thought goes into the colors found in these sources – they are designed to sell! So, take a tour through these rooms or pages and see how it's done.
Manufacturers' Websites: Paint manufacturers have been in the business of selling paint for a long time and they have collections of inspiring photography and decorating ideas on their websites. The best part is they always identify which color they used.
Paint Retailers: Go to your favorite paint store and check out the paint centers with color cards, brochures, swatches and other great color selection tools. Most manufacturers also offer small paint samples so that you can take a few of your favorite shades home, and test them before buying several gallons.
The Internet: Take advantage of the limitless inspiration the Internet offers. Create style boards on Pinterest, or follow some of your favorite designers and companies on social channels. Also, a lot of retailers offer new technology or apps for smartphones to visualize colors in your space.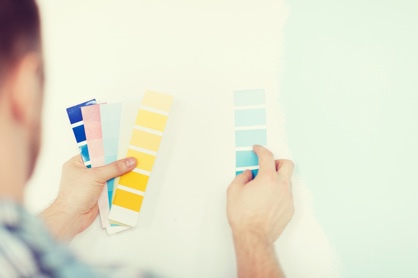 Related How-To Articles