Each year, millions of homeowners redecorate their space by adding a fresh coat of paint. While professional painters are always in demand, painting is still the most common DIY project.
Research shows that a difficult part of painting is getting started. While selecting a new paint color will also be challenging, let's focus on the tools needed to make sure the final results are just as attractive as the paint color.
Must-have prep materials

Drop Cloths/Tarps
Paint tends to drip and splatter. So, make sure to properly protect your carpet, furniture, floors and any other exposed surfaces. Drop cloths and tarps are cheap and easy to find at DIY stores and can be reused across projects. Check out Double-Sided Poly-Hanging Tape as an all-in-one solution for hanging poly-sheeting.
Screwdriver
It's best to remove small fixtures such as doorknobs, switch plates and window latches and then put them back when the paint's dry.
Spackle and Sandpaper
Repair dings, nail holes and other minor imperfections with spackle and sandpaper. Spending a little time to make these basic repairs will make a huge difference in your final result.
Bucket and sponge
Paint sticks better to clean, dust free surfaces. So, wipe down your walls with mild detergent solution before starting a job. Take special care to clean around air returns since dust and other particles can build up in these areas.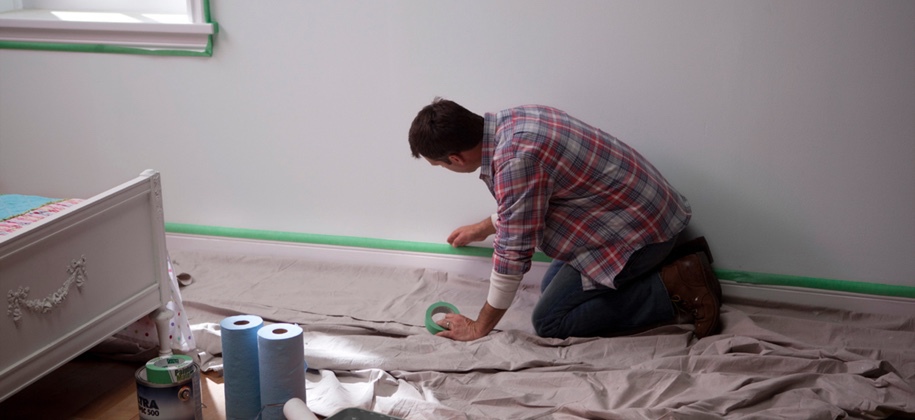 Painting essentials
Painter's Tape
Make sure you understand which painter's tape you need for your paint job. Don't forget to follow the tape's application and removal instructions.
Brushes

A high-quality paint brush will deliver the best results. Look for brushes that are one or two-inch nylon/polyester and angled, since these can be used with all coatings.
Paint Rollers

Not all paint rollers are created equal. For the best results, you need to have the right roller for both the painting surface (drywall, stucco, etc.) and the type of paint (latex or oil). This information is readily available at your local paint supply store, or on the product cover itself. Make sure the roller's easy to hold, and grab an extension handle to take on the ceilings and corners.
Paint Tray

Be sure the tray is the right size for your roller and the size of the room you're painting. A smaller tray might be easier to work with, but not if you have to continuously re-fill it during the project. Also, if you plan to be doing a lot of painting, it might be a good idea to buy a durable tray, and not just a disposable one.
Related How-To-Articles